Because I love Melissa (Frugal Creativity) so much, I've decided to embarrass myself just a little and participate in her Retro Runway: Blog Party. She got me to giggling at her post about the 80s hair and the stirrup pants so I had to search my computer for my own goodies. I didn't feel like finding photos to scan so let's see what I come up with.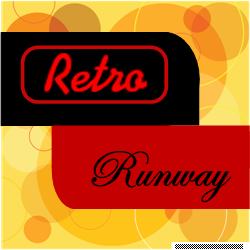 Here's what it's about: It's  the blog party where you can show off, laugh at, or groan over the styles that we used to wear.  Share your photos, stories, or both ... whatever you like ... and link up at Melissa's place!
The first picture I'd like to share is one that was taken in 1986/87 and one of my friends from that time period was nice enough (yes, I mean that sarcastically) to post on Facebook then tag me. Not only do I not remember the picture being taken, I can see that I wasn't thrilled about it either.
I have no idea what I'm wearing, but I do remember those earrings, the big rose-colored glasses with my initials (that was so IN!) and the hair. It's when we first started doing braided extensions. Nope, that's not my hair. I look kind of cute, right? LOL
The next one is almost 10 years later. I can't believe I used to wear pants like that… styling! I had just started growing my dreadlocks, but I thought I was too cute. And I was still sporting large glasses – although not the same ones as before.
Lucky for me I don't have any other 80s pictures on my computer. They're all safely in a box outta your prying eyes.
Are you going to join in on the party? I wish you would 'cause I would love to see some retro pics of you. Add your link below and/or visit other participants and have a little fun.