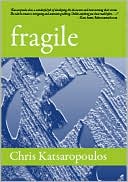 If you know anything about me then you know I like to read books and I really like telling others about them especially if they're good. When I received information about the book "Fragile" by Chris Katsaropoulos I was excited to read a copy.
Here's information about the book from the back cover:
Amelia Geist, Holly Schenck, and Tris Holloway are all broken - in one way or another. In a lifelong act of penitence and defiance, Amelia Geist has remained a virgin and saved herself for Tris, her first love, who abandoned her more than fifty years ago. A few weeks from retirement, Tris Holloway has led a separate life of his own in the hills above Silicon Valley, sealed by inertia within the confines of a loveless marriage and shattered by his decision to leave Amelia. The only person who can repair the rift between Tris and Amelia is Holly, a single mother without means, who is trying somehow to mend her life while laid out in a hospital bed, a victim of her own suicide attempt. The stories of Tris, Holly, and Amelia are presented in Fragile as broken fragments, woven together by profound truth and an astonishing connection that transcends the boundaries between this world and the next.
Sounds good, right? I agree.
Unfortunately when I began reading the book I couldn't really get into it because of the writing style, but a lot of people who follow Katsaropoulos like the fragmented and sporadic style. The flipping back and forth between characters, sometimes mid sentence, is bothersome to me.
If you're like me you'll want to read the book to find out for yourself. I think the premise behind the book is great and I would love to know how it turns out. If you get a copy, please let me know. The author has more than 600 followers on Twitter so obviously this is a problem with the type of books that I like and not with the author. :-)
You can get more information about Fragile at Luminisbooks.com or follow on Twitter @fragileck. The books is also available for purchase at Borders and Barnes and Nobles online stores.
Disclaimer: I received a review copy of Fragile in order to facilitate this review. No other compensation was received. Click to review my entire disclaimer policy.