I've finally found a little time, and energy, to get some blogging done. I happened over to 5 Minutes for Mom and discovered that the Ultimate Blog Party 2010 has started. Wow, I can't believe it's that time already. If you haven't experienced a 5 Minutes for Mom party then you don't know what you're missing. There are prizes, socializing and everything you find at a regular party (well, minus the prizes, I guess); just in the comfort of your own home. Or wherever you're blogging from at the time.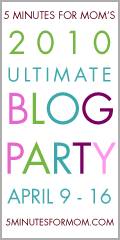 I found a link to
my post
from last year's Ultimate Blog Party and think it's cool to be participating again. It's a fun way to meet new blogging friends and, of course, win something. I keep talking about that, don't I?
If you're new to my blog, please feel free to click around some to get to know me. Let me tell you a little bit about myself, my blog (
It's a woman's world!
) and why I started. I'm a 40-something writer and mom of four children ages 18, 6, 5 and 2 1/2. I'm a bit overwhelmed with my life right now, but find solace in blogging because it involves a few of the things I like to do: reading, writing and socializing. :-)
It's a woman's world cover a myriad of different topics, but all of which I think are relevant to a woman's life. Well, at least this woman's life. There are book and product reviews, paid posts (gotta make some moolah), creative and random writings, updates on my children and my health and few other things here and there.
I look forward to meeting all of you and hope to see you around after the party is over. Here's to new friendships... party on!