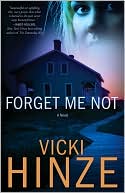 The deadline to enter to win has been extended to Sunday, April 25th. Enter today!
I am about a chapter and a half from finishing the book "Forget Me Not" by Vicki Hinze, and I get irritated every time I have to put it down to do something else. If it wasn't for my hectic life I would have finished the book by now because I think it's really interesting. It's a novel about Benjamin Brandt - a man whose wife and child were killed - and a mysterious woman who lost her memory during a carjacking and subsequently finds out she's been targeted for murder.
Although it's a novel that is filled with mystery, uncertainty and the necessary love interest it also goes much deeper than that. It creatively introduces (or reminds) readers to faith in God. Amidst the tragedy of losing his family, Ben has also loss his faith and finds it slamming him right in his face when the mysterious woman who looks like his wife and has no memory of who she is comes into his life. That woman, to Ben's amazement, has tremendous faith despite her near-death experiences and uncertain future.
Explosion, carjackings, memory loss, murders and everything in between make Forget Me Not a novel that's interesting, exciting and easy to read. You'll want to get a copy of your own - I promise. And you can if you enter to win!
WIN a

copy of

Forget Me Not

by Vicki Hinze

.
The giveaway runs from today, April 12th, to April 25th at 11:59 p.m. EST.
Mandatory entries:
1) Leave a comment on this post telling me the title of the book you're reading now or the title of your favorite book. 2) Publicly follow this blog. (Link is in the right-hand sidebar.) If you don't have a blogger profile that includes your email address, you must include your email address in your comment.
Leave a separate comment for both entries.
Optional entries:
(Please leave a separate comment for each entry.)
Read another one of my posts and leave a relevant comment on it then come back to this post and leave a comment here telling me which one you commented on.

Subscribe to my blog by clicking the "subscribe in a reader" at the top right of the page. If you're already a subscriber, please let me know that in a comment.
Write a post about the giveaway and link back here. Leave the exact URL (not the main page) in your comment.
Follow me on Twitter.
Tweet about the giveaway and leave the link in the comments to let me know that you did. (Click the time link under your tweet to get the exact URL.)
Friend me on Facebook. Leave me a comment telling me who you are on Facebook so I can keep up.
If you do each entry you'll have a total of eight. Everyone who enters should have a minimum of two entries to qualify to win.
Who is eligible?
This giveaway is open to US and Canadian residents.
As I mentioned, the contest ends on April 16th at 11:59 p.m. EST and the winner will be announced Monday, April 19th in a separate announcement post. The winner, who will be chosen by Random.org, will receive an email and have 48 hours to respond. If a response is not received in that time then a second place winner will be chosen.
Now, come on, get to commenting for your chance to win.
Buy it now
Can't wait to see if you've won a copy? Then hop on over to
WaterBrookMultnomah
to purchase a copy for yourself or a friend.
I received a review copy of "Forget Me Not" by Vicki Hinze to facilitate my review and no other compensation was received. The opinions expressed here are my own. Click to review my complete disclosure policy.