There are about 30 minutes until January 2, 2010 is here (well, it'll probably be here by the time I finish writing this). Not only am I having a hard time wrapping my mind around the fact that it's 2010, but I have a little brain battle going on. It's a condition that I have at the beginning of every new year, but I was hoping that this year would be different. I didn't think about it in advance. I didn't prepare for it and, for some reason, I didn't expect it. You see, I'm not that fond of New Year's Eve and New Year's day. I'm sure you're wondering why, but I'm not sure I want to share why. In my effort to be happy and positive by not thinking about my discontent I have almost forced myself into a state of irritation and discontent.
Isn't that crazy? It's just one day into the new year and I am ... Well, I am hesitant to use the word unhappy. Wait, I know: I'm dissatisfied. Yes, that's it. Dissatisfied with what? SIGH... Let's just say that I am. My thoughts of how I believe others should treat me or respond to me or be there for me or whatever it is is always sadly and most disappointingly lacking.
I guess one of the things I need to commit to doing this year is ensuring that my only expectation lies within myself. That whatever outside factors swirl around me they will not affect my mood, my thoughts, my ability to operate, create and focus. Whatever it is I will attempt to be in the moment, work through it in my brain and address it. Write it down, come up with a solution. What do I do when there isn't a solution? That's a great question. I can commit to not angrily ignoring whatever is bothering me and lurking just below the surface of my consciousness. I hope that whoever is most likely unknowingly contributing to my dissatisfaction will not be an issue for me. Uh, well I know what I mean. I think I'm talking and thinking around what's really bothering me. Trying to keep my true thoughts to myself 'cause even despite my habit of revealing my insides here at It's a woman's world there are still some things that I hold precious. Secret.
There are things that not everyone should know and when I want them to know there are ways that I don't want them to find out. Yea, think about that for a minute.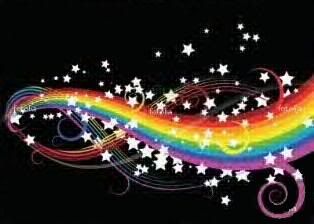 I am pleased that I didn't let this - the feeling, the thoughts - take away from some of the things I wanted to do for myself today. I washed my hair, dried it and straightened it. I painted my toenails and piddled around on the Internet. I procrastinated some and didn't do any homework, but had a chance to veg on the couch, watch some tube and clear out some of my email.
There are still things hiding in the dark, there are thoughts reaching for the light and I'm hoping that the light leads to a rainbow, sunshine or stars... there is a battle within my brain that I think I can win. By the end of this year, I expect to have experienced change, growth, knowledge, peace, comfort, happiness and way more love than I've ever known. Oh, and I can't forget more money! All the things I wish for you.