There are only about 34 minutes before Tuesday is over so this post is extremely late for Tackle It Tuesday hosted by 5 Minutes for Mom. However, for To Do Tuesday at Crazy Adventures in Parenting you can jump in at anytime.
I've decided to dive into both. I had an impromptu Tackle It Tuesday when I couldn't find a slip that I needed to fill out, sign and return to my son's school. I threw everything off of my desk and onto the floor. Never mind the fact that I am now scrambling to get everything cleaned up and find everything a home.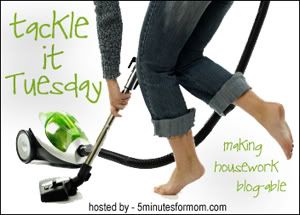 I remembered - way too late - where I had placed the slip so putting everything on the floor was unnecessary. However, I like the way my desk looks now... Maybe next Tuesday I can tackle the entire office especially the piles I have all over the floor.
After:

It still seems a bit cluttered all over the office, but I can't bring myself to get rid of anymore books. I've cleaned them out as much as I can. Maybe one day I could try color coordinating or something. No, that won't work because I like to have the books together that are by the same author. IDK... Any ideas?
What am I going to do this week? Hmmm? What am I not going to do is probably a more accurate question. These are the things that aren't on my regular to-do list:
Establish a spot to put gift items so that everything is in the same place. I can't remember whose blog I read it on, but someone called it a gift closet. It doesn't have to be an entire closet just somewhere I'll remember.
Mail care packages and items to my oldest daughter.
File papers, answer mail and find a home for everything that lurks on and under my desk.
Try to remember what else I need to do that's not already on my list. :D
Biggest one: Stop procrastinating and letting fear of failure (fear of success?) take over.
There ya have it. I've told you about my tackling and to doing in about 10 minutes.
What did you get accomplished today? What's on your to-do list?
Here's to accomplishments!