This is the first time I'm participating in Tackle It Tuesday and I'm hoping over the next few weeks to get some "projects" complete that I keep putting off. Today, I chose to tackle a pile of papers, printers and who knows what else that has been residing on the floor next to my desk.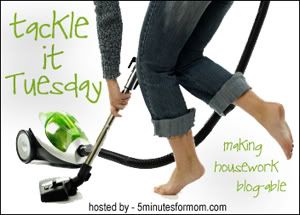 This is so sad to reveal, but this pile just kept growing. It had a mind of its own... you know how papers reproduce/mate? I'm sure that I didn't put all of this stuff here. Well, I guess I put a couple of things there: The printer on the right died one day and the printer on the left my daughter said, "What am I supposed to do with this?" I don't remember what I said, but that's where it ended up.
That white binder is a project I've been doing for my daughter. It has awards, recognitions and programs in it from the time she started pre-k (eons ago) to her senior year. I had to stop when I ran out of page protectors, but even though I've bought some more I still haven't finished it.
The small box I need to mail and the large box holds old Bibles that used to be my grandmother's. I can't decide what to do with them, but I don't think it does any good to have them in a box so I may look into selling them or something.
Oh, and the cords... BIG SIGH... when I switched my cable/Internet over into my name (from the ex's) it messed up my wireless Internet connection. My computer guy - my best friend who lives in Warner Robins - tried to figure it out through the remote fix-it program he normally uses with no luck. So, I waiting for him to come fix it.
I must admit that although I did get a good majority of the papers put away and filed, some of them went into my "to be filed pile," but that's for another Tackle It Tuesday. Now all I have to do is mail the box and make plans for the Bibles. Not too bad for my first TIT. Whatcha think?
Hopefully I'll get a chance to tackle something else next week.