To say I enjoyed my trip would be an understatement. I had the special treat of staying at a hotel: The Hyatt Summerfield Suites ... and the room was beautiful. My favorite hotel was the Comfort Inn that was until I stayed at this one. Everything about the accommodations is first rate in my book.
This is what the bedroom area looked like after housekeeping came by...
But this is what it looked like most of the time. I spent pretty much the entire time in that bed...
Sometimes I moved to the living room area... I sat on that couch twice (out of five days! LOL)...
And, of course, I shuffled out to the kitchen to get some coffee or a snack. (Excuse how messy it was. I never could get a picture of it cleaned up.) ...
One of the best parts was the bubble bath that I indulged in on the last night. That was definitely a luxury...
My BFF Frankie and I went to his cousin's house on Thursday for Thanksgiving dinner. His family was wonderful and I was really happy because they welcomed me like family. On Friday morning we went to visit my mother and also saw my brother and his wife. It was kind of funny to see them there since they live in Augusta, Georgia, only two hours from me here. I had to go all the way to MD just to see them. They had visited my sister-in-law's family in Philly for Thanksgiving.
On Friday evening we ate a second Thanksgiving dinner at his mom's house and I enjoyed teasing him with his brother and his sister-in-law. Their sweet toddler (Frankie's niece) was there as well so I got a baby fix while I was there.
Both dinners were absolutely delicious. I'm sure I ate way more calories than I should have, but I am pleased that I didn't go too overboard.
Saturday we went to the movies and saw Twilight. It was so good that we picked up the book at Barnes and Noble on the way out of the mall so we could see what was left out. (Remember, he and I are doing our
long distant book club
.)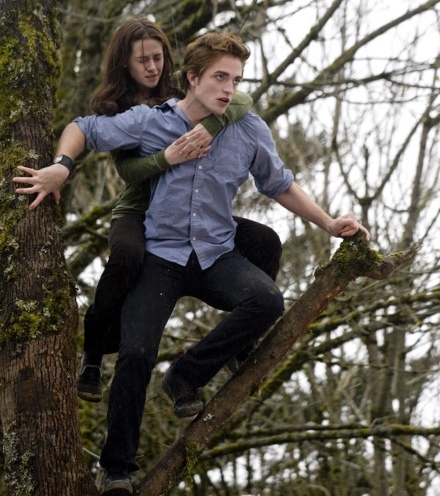 We plan on reading other books in the series and are looking forward to the next movie to come out. Well... I think that about sums up my time away from home. There's the Mexican food we had one night and all the television I watched, but I'm sure you don't need to hear about that. All in all I am so happy that I was able to get away and can't wait until I can do it again.