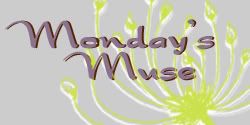 I've been struggling with today's muse because I don't necessarily have something positive or inspiring to share, but then I realized a muse doesn't always have to be that way. Sometimes we have things that occur in our lives that make for not so pleasant times. For instance, financial difficulties, marital woes, rebellious children and, to the extreme, death. Those are experiences that can often birth the most profound thoughts and strong emotions to convey a story, a poem, a thought or an encouragement.
Today, don't turn away from the negative to look for your creative juice. Embrace whatever is happening to you because you might just find the key to unlocking your muse.
Check out Maternal Spark for more Monday's Muse.