I subscribe to Sisterly Savings and she has been really encouraging on saving money and living a frugal life. Now, as many of you know, I love to save money. I have an attitude if I don't have coupons when I go to the store, but one of the things I hadn't been able to get a handle on was the CVS savings.
So, last week I decided that I was going to pay close attention to the Sisterly Savings posts about this. Sometime last week she let everyone know that CVS has Jumbo Pampers on sale this week. I marked it on my calendar and on Sunday I went to the store. The Pampers were on sale for $7.99. I had two coupons for $2.00 off one pack so I bought two packs and got each pack of 30 for $5.99.
That's $11.98 (plus tax) for 60 diapers! Now all you mommies know that that's quite a deal.
PLUS I earned the Extra Care Bucks.
I'm still learning about the ECBs, but from what I understand you earn the bucks on purchases and they accumulate in your account (you have to have an ECB card) then you get that money back on purchases. I'm not sure if I explained that correctly, but any CVS gurus can clarify for us.
If you're interested in saving money and haven't checked out Sisterly Savings then you need to. Besides the saving money routine that I've established for myself she has helped (and is helping) me immensely.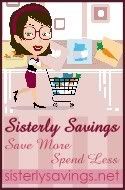 Grab this button