I have a cute little badge for
It's a woman's world!
(thanks to
Tammy
) that I would love to see passed around as an award or gracing the sidebars of your blogs. So, if you're interested in exchanging badges and buttons, please grab mine below
including
the code. And, if I don't already have your badge and you'd like to see it in my sidebar then just let me know by leaving a comment and telling me exactly where to find yours.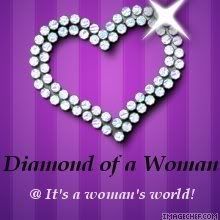 The point of including the code? Backlinks, of course. You scratch my backlink and I'll scratch yours. If you've been so kind as to include my badge already and don't have the code then I'm asking nicely for you to add it. Pretty please. :-) Tons of thanks!