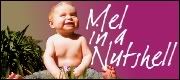 Quite awhile back I stumbled across
Mel in a Nutshell
. I love her blog and she's become a great blogging friend. She's one of the sweetest women and has the sweetiest looking baby. And (drumroll please) she's holding another contest.
The last time she had a contest
Carrie
won 50 bucks. This time the prize is $20 (which I hope I win! :-]).
Drop by Mel's place and get to know her. Even if you don't want to enter the contest you'll make a cool blogging buddy.