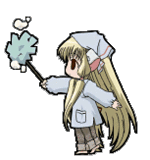 Although I have grandiose ideas regarding my Spring cleaning efforts; they hardly ever happen. I'm so overwhelmed by the amount of cleaning, straightening and freshening that I end up only doing about 1/4 of what I want to do. This year I had the idea of having a Spring cleaning party.
Here are the details:
1. Involve/invite at least four other families/women.
2. Decide on five weekends that everyone is available to clean.
3. Everyone chooses the weekend they would like their house cleaned.
4. Assign one person to care for children that weekend (the caregiver job would rotate each weekend).
5. Determine what job each person would like. For instance, one person may be assigned windows, another carpets and floors and someone else baseboards and shelves. Each person may have two tasks. For instance, washing comforters and transporting giveaways to Goodwill or Salvation Army. A good idea here is to throw all the tasks needed into a hat and everyone chooses then at the next house the tasks are just rotated.
Don't forget to:
1. Involve the men! They're going to be needed for heavy tasks.
2. Give older children a list of to dos. If you have teenagers then put them to work.
3. Eat. The person's home that is being cleaned should provide the food OR if everyone agrees then a potluck can be organized.
4. Invite people who you are comfortable with, new neighbors and/or a single parent in the neighborhood.
5. Be creative!
The benefits:
1. If there are small painting jobs or easy home improvements (like laying down a laminate floor) that are needed then it'll be possible to accomplish that also while others are cleaning.
2. The cleaning should happen more quickly and thoroughly.
3. It's an opportunity to socialize and be productive ... killing two birds with one stone.
Although this requires a lot of coordination, cooperation and organization it should make a sometimes daunting task very pleasant. Let me know if you have ideas about a spring cleaning party and if you organize one, come back and tell us about it!
Before the week is out I'm going to ask a couple of my friends if they're interested in joining my Spring cleaning party!