Tammy
, the bestest blogging buddy ever, created the code for me for the Diamond of a Woman award. So, please grab the code to add to you blogs and pass on to your blogging friends. (Uh,
Bradley
, I know you're not a woman, but do ya think you could mention it too! :) Thanks!)
I'll post this to my sidebar soon to make grabbing it easy...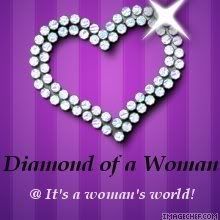 Don't forget to tell your friends!