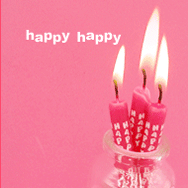 I can't believe I forgot to tell you that one of my beautiful daughters celebrated her birthday on Monday. Little Miss Amareah is now 3!
She is so excited about this milestone since her brother turned 4 a few months ago. She's been waiting patiently for her turn and was beside herself on Sunday when she heard that the next day was her birthday.
I took pink and blue cupcakes to the daycare (yes, they're back in daycare) and the look of joy on her face was so rewarding. She's having a party on Feb. 2nd and has already announced where she wants it to be. (At the same place her brother had his: Chuck E. Cheese, of course.)
Here are Andre and Amareah some time ago. I'm still having trouble with the stupid camera and laptop so sorry that the picture is old.